DESCRIPTION OF GRAY WHITE COLOR
Why use activated oxygen to clean your CPAP ?
The activated oxygen (ozone) has been shown to have multiple benefits over other ways of cleaning the CPAP. A naturally occurring gas, ozone is extremely safe when it is used properly. It has been used to purify water since the 1800s. Today, it's the method that hospitals, food handlers and the hotel industry use for sanitizing, as it's been proven to kill virtually all known forms of bacteria in air and water. As a CPAP Cleaner, FREYAT effectively eliminates harmful things, without introducing moisture that could then become a breeding ground for more germs. FREYAT is designed to safely use ozone, rather than sending it directly out into the room.A easy and fast CPAP cleaning method,save your time and money.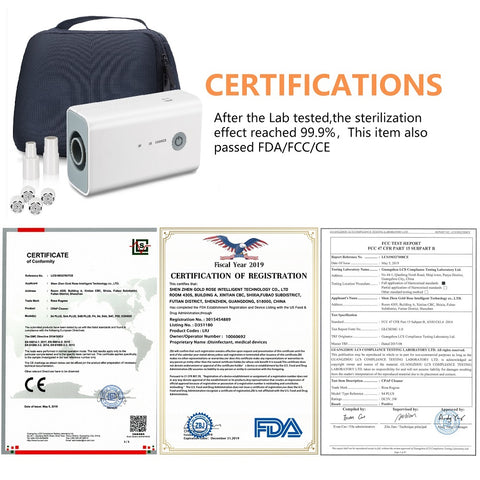 Clean is simple
Now with the FREYAT cleaner,a 100% waterless cleaning method, you can properly disinfect their CPAP/BiPAP equipment! To use FREYAT, simply hook your hose to cleaner by provided universal adapters, press button and you're ready to walk away. The FREYAT will automatically clean your equipment and accessories by activated oxygen to sanitize throughly in only 20 minutes.

Hook hose,then press button,it doesn't get any easier than that! From today, stop hand washing your CPAP and accessories, just enjoy one press automatic cleaning cycle!Enjoy everyday and travel with your family without think about your CPAP machine cleaning.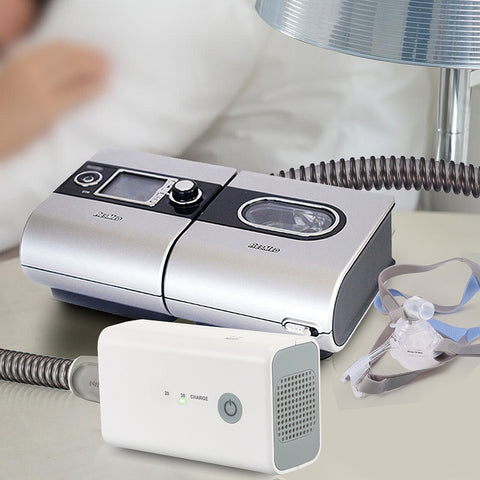 Does FREYAT cleaner compatible with my CPAP?
FREYAT provide all-in-one package,included 22mm New Heated hose adapter and 15mm AirMini adapter, also include premium travel sanitizing bag.The carbon filters will help reduce unpleasant smell during cleaning.There's no need to get a tape measure or track down the booklet that came with your CPAP machine to find out its measurements. The Freyat CPAP Cleaner is compatible with all the standard models.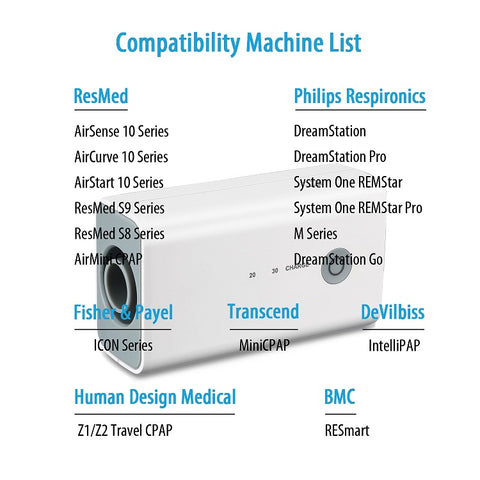 FREYAT cleaner features
Microorganism Eliminating-Destroys 99% pathogens in your CPAP/Bi-PAP machine,mask,hose and water reservoir throughly. 
Portable and Rechargeable-Only 0.45lb,powerful rechargeable 2600mAh Lithium Ion battery provide 10 to 12 cleaning cycles for 1 simple charge. 
Multiple Cleaning Modes-Two modes of 20/30 minutes.Meet different situations and various needs.No maintenance, no worry!
Odor Eliminating-The 2-speed fan will blows fresh air through in the last 5-10 minutes,carbon filters help to reduce the unpleasant odor after cleaning.
Ultra Quiet Disinfection-You don't have to endure a noisy CPAP cleaner sold as $300+ during sanitizing anymore,just enjoy fully ultra quiet clean and healthy breath. 

2 Year Warranty-45 days risk-free trial,24 months parts manufacturer warranty and friendly customer service.
What's in the package:
1x Freyat Cleaner

1x sanitizing bag

1x 22mm New heated hose adapter

1x 15mm Mini hose adapter

4x Carbon filters

1x AC charger

1x USB cable

1x User manual

Friendly customer service.